The Attentional and Interpersonal Style Inventory (TAIS)
Why do we need and/or use assessment instruments (tests)?
The purpose of such instruments is to help us to predict and understand exactly how an individual will perform under a variety of circumstances. To understand exactly how a person is going to behave, the best sources of data are:
close observation over a long period of time (e.g., watch them perform on the job)
a lengthy and exhaustive interview conducted by a highly skilled assessor

Although highly predictive, it is impractical and expensive to use such methods in all cases. Assessment instruments help us gather useful data in an expedient and practical fashion. Assessment instruments when chosen carefully and used appropriately are invaluable in the selection process.
If we are going to use a test, what types are available? And what types are best?
At one end of the continuum are the tests designed to assess personality and predict behavior. These are from the world of clinical psychology and were created to aid in the diagnosis of personality and emotional problems. Making the information derived from these tests useful in the business world requires years of experience and a great deal of clinical skill. The leap from the data these tests provide to business selection decisions is enormous.
At the other end of the continuum are the highly specific tests designed by researchers for use in certain, specific selection situations. These tests are typically derived through an empirical process where "the numbers" determine reality. They lack any grounding in any theory of human performance and are usually a face valid combination of traits, characteristics, or behavioral styles. They tend to be useful in predicting the behavior of groups or behavior in very specific circumstances. They are less useful when predicting individual differences and performance across a wide variety of situations.
Given the limitations of each of these types of instruments, is there any way to make better predictions?
The answer is "Yes". A description of how elite level athletes and elite military units have accomplished the task provides fine illustrations.
What do these two different groups have in common?
Both are interested in human performance at an elite level.
both are especially interested in how people will perform under high levels of stress/pressure.
Performance under stress is a critical concept for both these groups. We believe it is critical in the business world as well.
How many of you have seen people in the workplace who are "okay" performers under normal circumstances absolutely falling on their faces when the pressure was on? How many of you believe that what separates the top-notch employee in today's business climate is performance under pressure?
In professional sports or the Olympics, what matters most is how a person performs when everything is on the line; when 4 years of dedication and hard work come down to 10 seconds of performance
TAIS THEORY OF PERFORMANCE
Concentration:
This is certainly a very different construct to begin with in a psychological theory of performance. We are much more used to seeing "personality" variables like introversion or extroversion when dealing with psychology. But think about it for a moment. Isn't concentration
at the heart of all performance?
Was it is involved during your drive to work this morning? I hope so.
Was concentration a factor when you made your last decision under stressful circumstances? It was if that decision turned out to be the correct one.
What role did concentration play as you prepared your last big presentation to your boss? As you collected all the relevant data, organized your analysis, and delivered the product, concentration was the focal point of your performance.
Let's face it, at the moment of truth, whether you are introverted or extroverted has very little relevance in your ability to make good decisions or take appropriate action.
At the moment of truth, whether or not you are attending to performance relevant stimuli is all that matters.
Concentration Styles:
How many times has someone said to you, "Pay attention!"? "Concentrate!" The assumption in this type of coaching is that there are four different concentration styles.
Click on the Image to Enlarge
Your concentration varies along two dimensions:
Breadth: At any given moment, your attention is either Broad (focused on multiple things simultaneously) or Narrow (focused on one thing)
Direction: Your focus is also either External (focused outside your head) or Internal (focused inside your head)
In elite military units, what matters most is how a person will perform when decisions have to be made and action taken when lives are on the line.
Dr. Bob Nideffer developed the Theory of Attentional and Interpersonal Style in his work with elite athletes at the professional and Olympic level. It has been applied extensively in military settings with Navy SEALS and Army Special Forces. The theory brings together performance relevant constructs in such a way as to accurately predict how people will perform in wide variety of situations.
The predictions are especially useful in understanding how a person will react under stress. The theory and the Attentional and Interpersonal Style (TAIS) inventory combine to anchor a selection system that is highly predictive and easy to adapt to any performance situation.
With TAIS data, you can not only predict how a person will perform, but you can also use the information to give corrective feedback and improve performance.
There are very few other assessment instruments that reliably provide targets for professional development. How many of you have ever taken the Myers-Briggs? Anybody remember his or her 4-letter code? Anybody believe their performance improved once they learned their style? A Myers-Briggs result not only can't give you areas to work on, but it also cannot predict how you'll perform under stress.
TAIS Theory of Performance 1
These two dimensions combine to form the four concentration styles depicted in the figure. You can think of these four styles as four different channels because just like with your television you can only be tuned into one channel at a time or use one type of focus at a time. There is no "picture-in-a-picture" with human concentration.
Cha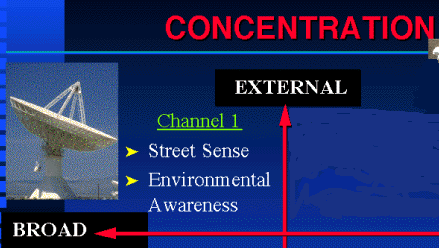 nnel 1 is the Broad-External Focus
This is where you are attending to many different things simultaneously and they are all in your surroundings. You can think of this style as "Street Sense" or general awareness of what's going on. This is the right focus as you prepare to cross a busy intersection. It's the focus most often used by athletes in team sports, like in basketball by Michael Jordan as he runs a fast break down the court. It's his ability to sense or read where his teammates are and what the defense is doing that allows him to make successful choices. It's also the focus of a high producing salesperson as he or she assesses whether or not a client is ready to buy. In fact, in most situations where you've got to react to other people, like at a board meeting or a critical meeting with the boss, the broad-external awareness or ability to read the situation will determine success or failure.
Channel 2 is the Broad-Internal Focus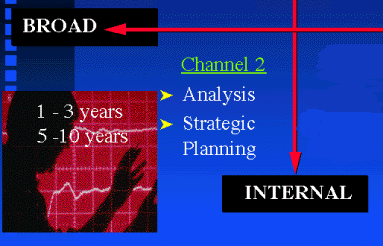 Inside your head, focusing on many things at once --- this is the planning and analytical type of attention. Broad-Internal typically cuts across time and you are comparing current events with past learning in an attempt to predict future outcome. Broad-Internal is the "big picture" focus used by leaders as strategies and plans are determined.
Ch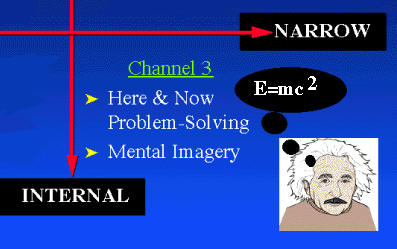 annel 3 is a Narrow-Internal focus
This is a "here & now" problem solving focus, where all that is relevant is in the present. If you were asked, "How much is 15 minus 7?" , you would calculate the answer using Narrow-Internal. Or if you were asked to imagine that you are lying on a beach in Hawaii, you would attend to that mental image with this Channel.
Channel 4 is the Narrow-External Focus
This is the attentional style used, as you are about to take action. This is the channel frequented by those highly disciplined performers who become subject matter experts. There is a certain single-mindedness to this style. Narrow-External is used to grab onto a project and stick with it until completion. This is shutting everything else out and focusing. This may be what those misguided mentors of yesteryear were referring to when they screamed, "PAY ATTENTION!!!"
Concentration & Performance
As stated earlier, we can only be tuned into one channel at a time, but the critical thing to realize is we have the capacity to tune into all of the channels. What we know from our research is that each person has a preferred channel or attentional style. This is the style you rely most heavily on in performance situations. It is not clear whether the preferred or dominant style is a result of genetic factors or learning, but what is clear is that it's the style supporting most of our successful performances.
The issue of a dominant style is critical because we also know this is the style a person will go to under pressure. If your dominant style is Broad-Internal, the strategic/analytical style, you will go to it when stress levels are high. The implications of this should be clear. If successful performance is the result of the right match between the situational demands and the attentional style, then a person will perform best under pressure if his or her dominant style matches the situation. In order to select people who will perform exceptionally well, we want to choose people whose dominant attentional style matches the concentration demands of the work environment.
TAIS Theory of Performance
The second component of this theory of performance is Interpersonal Characteristics.
Interpersonal Characteristics:
These are the kinds of psychological factors we are used to seeing when discussing assessment instruments. TAIS theory recognizes the importance of these constructs, but always within a context that includes concentration.
We will discuss each variable independently and then give some examples of how interactions with concentration and other interpersonal variables are critical to predicting performance.
Preference for Diversity
This variable relates to a person's preference for a wide variety of activities.
Are you the kind of person who prefers life to be like a 3-ring circus? Or are you at your best when you are able to focus your efforts in only one or two directions?
Think of this variable as similar to the old Vaudeville routine where the performer would spin plates on the top of sticks. The performer was required to move quickly from stick to stick in order to keep them all spinning.
People who score high on Preference for Diversity have lots of plates spinning. They enjoy busy, multi-tasking environmental demands. People in upper level management typically score high on this variable. If you put a person with a high score in a rather mundane or slow work setting, that will be stressful and the person's performance will suffer.
Low scores reflect the preference for dealing with one issue at a time. In this manner, all energy and resources can be devoted to the endeavor. If you put a person with a low score in a busy environment, stress levels will rise and performance will be detrimentally affected.
Behavioral Control
This variable relates to a person's tendency to play by the rules and "stay between the lines" or as scores rise, make up the rules as they go and frequently go outside the lines.
Often, higher scores are evidenced with people who bring a creative flair or spontaneity to situations. As you might imagine, these are the same people who can be real trouble because they seem to be constantly upsetting the apple cart. I'm not sure you want this type of creativity in your financial department.
Lower scores are associates with a desire to play by the rules and these people are best in disciplined and regulated environments. These are the folks you want handling the money.
Obviously, as scores approach either end of this scale, performance will suffer. Very high scores are often "loose cannons" who alternate between creative brilliance and "run-ins with the law". Very low scores are associated with a very rigid behavioral style that virtually lacks any flexibility.
Control
Are you the type of person who prefers to be in charge? Are you ready and willing to take responsibility for the performance of a group? Or are you more comfortable and productive as a follower? The Control score gives an indication of this.
It goes without saying that effective leaders score high on this scale, but what is critical to note is that an extremely high score can be tough to deal with. These are people who are so uncomfortable when they are not in charge that they do anything they can to maintain control over virtually everything.
Lower scores indicate a preference to follow. Placed in situations where they must take charge, low scorers will see their stress levels rise and performance fall.
Self-esteem
How confident is a person? Do they believe in their abilities and performance or are they typically held back by debilitating self-doubts? The Self-esteem variable gives you a measure of a person's confidence level.
Most selection situations look for candidates with high scores on this variable, and solid, consistent performance is most often associated with high levels of confidence.
The one Achilles heel of really high levels of self-confidence is these people have a much harder time listening to constructive criticism. They have a hard time conceptualizing themselves as anything but successful. If anything, they will make mistakes because they believe they can do anything.
Physical Orientation
This is a construct with a great deal of validity in performance situations involving physical skills. High scorers tend to be very physically oriented and enjoy competing physically.
There may be much less validity for this variable in the business world, although people who are very competitive and enjoy competing 24 hours a day (like high-producing salespeople) usually score high.
What may be of more importance in the business world is "Intellectual Competitiveness".
This can be assessed using a combination of Control, Self-esteem, and Intellectual Expressiveness (which we will discuss in few minutes).
Speed of Decision Making
Are you the kind of person who makes quick decisions and is willing to trade accuracy for speed? Or do you have a more cautious style focused on being right the first time?
The Speed of Decision Making score not only gives you the kinds of situations the person is best suited for, it also provides a metric for the types of errors a person is likely to make.
Putting a quick decision-maker in numerous situations where the emphasis is on careful deliberation will be stressful. Similarly, put a decision-maker who emphasizes accuracy in situations that require "seat of the plants" deliberating and that situation will also be stressful.
Extroversion
Here is the moment you've all been waiting for. A familiar friend, Extroversion, also makes the list of key performance concepts for TAIS.
The one difference you should note however is that TAIS allows you to score high on both Extroversion and Introversion. Other tests pigeonhole you into one or the other.
How many of you consider yourself extroverts? Do you also enjoy quiet times by yourself? And for you introverts, do you also enjoy being around others at times? TAIS Extroversion indicates your need or desire to be around others. As this score gets higher, your need for constant social contact increases.
Lower scores indicate you have very little need to be in social situations.
Introversion
TAIS Introversion gives an indication of your needs for privacy and time spent alone.
As stated before, you can be a very outgoing and social person and still have needs for privacy.
Very low scores on Introversion suggest that putting the person in isolation for long or frequent periods of time will be stressful.
Intellectual Expressiveness, Negative Affect & Positive Affect
These 3 constructs should be considered simultaneously because they provide an idea of what others are likely to hear when a person speaks.
As with the concentration styles, you get a sense of a person's dominant expressiveness style by considering the relative scores on these three scales.
Very simply, Intellectual Expressiveness involves talking about thoughts and ideas. It is communication on the logical and rational level. Leaders, managers, and coaches typically score highest here.
Negative Affect involves a willingness to be confrontational, critical and at higher levels pretty harsh. For people in leadership positions, a mid-range score on Negative Affect is a positive indicator because it suggests a willingness to confront difficult issues and be critical of subordinates if the need arises.
Positive Affect is a much more supportive and laudatory type of expression. These are very optimistic people, who always seem to have something pleasant to say. You can imagine what your life would be like if your boss was high on Positive Affect as opposed to high on Negative Affect.
Focus Over Time
This measures a person's willingness to be very devoted to a goal (e.g., advanced degree program, career path, sport) to the exclusion of just about everything else.
High scores reflect a mind-set where the person has made a decision that his or her goal will come first and others around them will have to accept that.
You can understand how this becomes a very predictive measure when used with CEO's and executives or elite-level athletes.
Performance Under Pressure
There's three seconds to go in the game. Your team is behind by one point. You've got time for one shot that will decide it all. Do you want to be the one who takes the shot? That's the kind of data Performance Under Pressure provides you.
Think of it this way. Everything your project team has worked on for the past 12 months comes down to a 15-minutes presentation to the CEO. Only one member of the team can make the presentation. Do you want to be in that position?
Lower scores on this variable do not indicate a person is unable to perform under pressure. Rather it reflects a desire to be in performance situations where the entire outcome is not always dependent on your actions.
Combination Examples
Now that we have looked at each of the TAIS constructs individually, let's look at a couple of examples of the real power of TAIS. Combining variables to predict behavior.
Example 1

Let's say this is a person with a high Behavioral Control score. He or she likes to play by his or her own rules. There is the potential for some impulsivity and acting out.
Let's also say the person has a very low Speed of Decision-Making score. He or she makes very quick decisions. Sort of "shoot first, ask questions later" kind of decisions.
With only these two scores, there would exist concern about this person becoming a "loose cannon" and a discipline problem.
How might the concentration scores modify this?
Let's say the person also has high Broad-External and Broad-Internal scores. Now we know they effectively scan the environment and collect the relevant data. Furthermore, they effectively analyze situations and put together strategic plans of action. This is a person with whom there would be much less concern that he or she will become a "loose cannon". He or she is likely to be much more of a calculated risk taker, who has had very few spectacular crashes in his or her work history.
Now let's say that both Broad-External and Broad-Internal are low. A very different picture. This is someone who makes bad and untimely choices and is likely to be a nightmare employee. They go off half-cocked making quick decisions and bending the rules. Their crashes are frequent and a sight to see.

Example 2

One of the things that have occurred as technology has advanced is the creation of highly skilled technical experts. To be a superstar typically requires a dominant Narrow Attentional Style, a low Preference for Diversity, higher Introversion than Extroversion, and Intellectual Expressiveness.
The technical expert has the single-minded, disciplined focus to spend the time and energy to become an expert. They prefer to be alone (to focus on their area of expertise without annoying interruptions). And they typically limit their expressiveness to logical and rational areas.
Can you see how moving this technical superstar into management could be a problem?
Management at higher levels requires more of a big-picture, strategic focus. A preference for high levels of diversity. You have to be willing to spend a great deal of time interacting with others, and effective leaders are able to communicate on an emotional as well as rational level.
This example reflects the dilemma many companies face today with succession planning. The technological expertise necessary at lower levels requires a psychological makeup that typically does not match with the demands of growing into a leadership position.
Summary
This has been a quick run through of the TAIS and its supporting theory. We believe it is the most viable and effective selection instrument for companies with a focus on performance, especially performance under stressful conditions. If you want to know how a person is likely to react to a wide variety of workplace situations and can't afford a 6-month probation period, TAIS can provide critical data to your selection process.